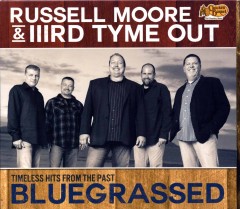 Over 21 years and 16 albums, Russell Moore & IIIrd Tyme Out have been playing bluegrass featuring Moore's Bourbon-smooth, Kenny Rogers-style singing voice. Hailing from the Southeast, the personnel in the band have varied, but in addition to Moore's guitar and vocals, current bandmates include Steve Dilling on banjo, Wayne Benson on mandolin, fiddler Justen Haynes, and bassist Edgar Loudermilk. All are polished pros; the band's sound is a mix of smooth instrumental proficiency and warm harmonies, which earns them frequent spots near the top of the bluegrass charts.
The press kit for their latest CD, Timeless Hits from the Past Bluegrassed, points to their many annual shows at the Grand Ole Opry in Nashville, and this actually speaks volumes about the disc. These 12 tunes, played by a bluegrass band, end up being a jumble of country, pop, blues, and, yes, bluegrass covers, with uneven results. It's like listening to a show at the Opry, with the band trying a little bit of everything.
"Gentle On My Mind" starts off with nice touches by the axe men at hand, but otherwise sounds just like Glen Campbell's great 1967 cover (which had some nice picking going on as well). Moore sings so much like Travis Tritt on "Modern Day Bonnie and Clyde" that, again, the difference between versions becomes a matter of banjo rather than harp here and a bit more zip on the beat there. They're good songs, but there's no bluegrass transformation going on. Moore and company go a capella for "Only You," and it is a highlight; Moore has a great set of pipes, and the harmonies are deep and rich.
The group does do a good job of "bluegrassing" on "Take Me Home Country Roads," with a stripped-down version that cleans up all the echo, studio clutter, and over-production of the John Denver version. "My Window Faces the South" is pure western swing, not close to bluegrass. That said, the guys show that Bob Wills-style music is no problem for them, the fiddle and hot electric guitar licks recall Wills' sound. It's no surprise that the band sounds most at home doing a dandy cover of "Big Spike Hammer," a bluegrass standard that gives Benson a rare chance to burn the frets. A boogie-ing, country-rock "Tulsa Time," with electric guitar solos follows, and seems an out-of-place misstep.
"Mama Tried" is the best example of a venerable country song successfully given a different, bluegrass feel. Instead of rocking the Merle Haggard tune up, the band finger-picks figures on the mandolin and acoustic guitar, adding fiddle to whoop it up, but not too much. This standout is followed up by another good bluegrass workout, "John & Mary," from one of their earlier albums; Pam Tillis helps as it charmingly evokes a country wedding in banjo country.
Timeless Hits of the Past Bluegrassed may be a bit scant on the bluegrass, but it is easy on the ears, a batch of familiar covers played by ace musicians.