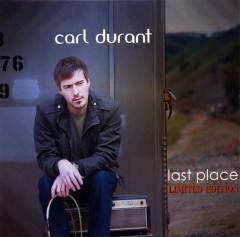 Originally from Belgium, and citing influences as varied as the Decemberists' alternative folk, Brit alternative bands Placebo and Coldplay, and REM, Carl Durant writes and plays pop that isn't easy to label. The San Diegan's new release, Last Place, gathers singles and a previous EP for eight interesting tracks that ultimately don't make pigeon-holing his sound any easier.
Durant got some female backup singing help, but wrote, played, and produced all the music here, and the solid keyboard, acoustic and electric guitar support he gives himself pays off. He starts off with a song about a real-life traffic tragedy, "(Not Our) Ride Home," a strange, haunting story about death as seen through the eyes of a child, "Mom, where did my sister go?" "Secret," follows, a soft folk song with a message that recalls quiet early childhood days while daddy was sleeping — then the teen years, when daddy was awake, coming, and the door had to be locked. Durant doesn't shy from the dark stuff.
"Appropriate" is the rocker on the disc, a standout track with Durant's vocal sounding like Placebo's Brian Molko doing a song by REM, to chugging guitar, he sings "I've been dreaming about you girl/ More than appropriate." After another catchy, uptempo song, "Teenage Dream," the title tune builds, using a canvas of grand piano, guitar, and airy keyboards for Durant to draw a portrait of a ruined relationship; she invites him back, but it is too late.
Carl Durant captures an elusive, original sound on Last Place that will have listeners asking for more.