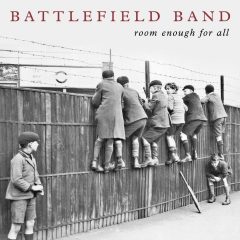 It's been years, decades actually, since Fiona Ritchie's The Thistle and Shamrock shared some of the weekend programming time on KPBS. After all these years, it's still easy to remember the Battlefield Band, which received airplay on that show. Always true to their Scottish and Celtic roots, this ensemble distinguished itself for its freshness and vibrancy. Room Enough for All, their latest CD, continues their commitment to giving the world some of the best music from their homeland.
Since their founding in 1969, this quartet has been at the forefront of the Scottish music revival. Named after the Glasgow suburb of Battlefield where the band was formed by a group of student friends, the ensemble has gone through a number of personnel changes. They have nonetheless remained true to the spirit of the Celtic music that has inspired them. These musicians are traditionalists, but are not necessarily traditional, never hidebound to the conventions of the music of their homeland. While other Celtic bands might keep the tradition alive, the Battlefield Band keeps the music alive.
The instrumentation of Room Enough for All is standard fare for Celtic music, with guitars, bouzoukis, bagpipes, fiddles, and whistles, and the lion's share of the material on the disk are traditional Scottish reels, waltzes, and fiddle tunes. What truly distinguishes the Battlefield Band and this disk is the musicianship of its members. Of note are Alasdair White and Ewen Henderson, whose fiddle playing is both lively and precise. Mike Katz, the one transplant to Scotland, a Los Angelino who settled there after heading to Scotland for college, performs some exceptionally deft piping on the bagpipes.
While the disk comprises mostly traditional Scottish music, there are a few recently composed numbers. "Farewell to Indiana," sung in a clear, strong voice by Sean O'Donnell, gives us a picture of immigrants to the U.S from Scotland who choose to return to their homeland. The song is not sentimental in the slightest, and one gets the impression that, though life has been good in Indiana, there are no regrets in leaving the U.S. Another recently composed tune closes the disk. "Tynes in Overtime" is a musical tribute to Lawrence Tynes, the Scottish-born field goal kicker for the New York Giants. Tynes holds the distinction of being the only player to kick the winning field goals in two separate playoffs, hence the title to the tune.
Lastly, I'm not sure what it might be – the waters of the highlands, the weather that the north of Britain receives off the North Sea, or that Scots are known the world over for their engineering, but the recording of Room Enough for All is stellar. If you like the Celtic music of Scotland, this disk is for you.
See the Battlefield Band in concert on Sunday, March 24 at AMSD Concerts, 4650 Mansfield St., Normal Heights, 7:30pm. Go to: amsdconcerts.com for ticket information and further details.