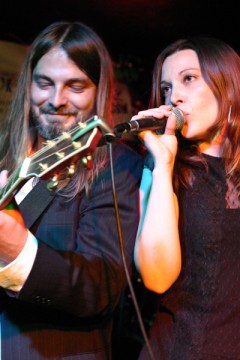 The legend of Bonnie and Clyde, disregarding Cleopatra and Mark Antony, is perhaps the first notable example of a famous couple that engaged in a cooperative undertaking separate of their romantic involvement. In our time, and more specific to musical collaborations between lovers, we have Stevie Nicks and Lindsay Buckingham of Fleetwood Mac, and Meg and Jack White of the White Stripes as two inspiring examples of amorous conspiracies that yielded bountiful creative fruits. But their respective romances ended prematurely, collapsing under the cumulative weight of ambition, egos, and the pressures of fame. Others that experienced more conjugal longevity in the public eye, such as Sonny and Cher and Paul and Linda McCartney, created oeuvres that tend toward the inconsequential side of the spectrum. Romantically involved couples that have balanced artistic integrity within a long-term relationship are few and far between, but San Diego has its own shining example in Heather and Johnny Janiga of Podunk Nowhere and the Black Sands.
The Troubadour recently caught up with the Janigas on a crystalline, post-inclement evening in late December to quaff some libations and capture their heart-warming story on tape. The Janiga residence, should you ever find your way there, is inordinately nice for a household of musicians (they share the cozy Bay Park domicile with fellow muso Christopher Dale, and their aptly named dog, Dolby). The brick fireplace glows invitingly, warming the spacious living room with its soporific embrace. A sprawling wooden deck – perfect for sporadic smoke breaks, not to mention parties, one speculates, with the starlit night allowing vague hints of the spectacular view – can be accessed through the sliding glass door adjacent to the well-equipped kitchen, which is the perpetual pride of budding chef Heather, who spends the end of the gathering preparing delicious hors d'oeuvres for everyone. The furniture is modestly posh, what there is of it, and a television quietly plays the 2002 Wilco documentary I Am Trying to Break Your Heart in the background, casting its own incandescent glow on the phalanx of guitars standing at ease nearby. The TV pulls rank at the top of the entertainment center, which also houses a quasi-audiophile stereo system; cables fan out of the rear to various locations in the room, disappearing into speakers mounted high up on the walls.
Toward the end of the evening, Johnny will play MP3s from their entire catalog through this stereo, with Heather alternately lauding and critiquing each selection like one imagines any artist would while listening to their own work. The crème de la crème (not to take anything away from the 2012 SDMA Rock Record of the Year, the Black Sands' 1977) are from the new Podunk Nowhere CD they recently finished with Jeff Berkley, Crackle and Shake, which is slated for a spring release. The album's production more than rises to the challenge of matching and augmenting the maturity and grandeur of the material with its majestic instrumentation and well-reverbed ambiance, giving it the feel of a major label release from an independent Americana band that has paid its dues. This record is ergo an important milestone, as they truly feel that whatever success they might garner with this project will have to be derived from how well their studio efforts shine, since their work is admittedly downbeat and they don't yet have a full band to reproduce the material onstage the way they'd like. (They're also conscious of appealing to a steadily aging, mature demographic, not the puerile, nü-disco-devouring 20-somethings and teens who seem to comprise the contemporary downloading public.)
The Black Sands don't appear to have any of these problems. Boosted by the tangible cachet of magnetic multi-instrumentalist and prolific librettist Alfred Howard, as well as by personnel infusions from Al's various other projects (including the Heavy Guilt), Heather and Johnny have found success and critical recognition by stepping outside the box in which most musicians stubbornly languish and opening themselves up to collaboration (courtesy of numerous accrued friendships and Johnny's chatty, git-er-done extroversion). Their recessive internal rockers used to dream of playing a club like the Casbah as they flogged Podunk Nowhere's stripped-down, little-bit-country music to inattentive audiences at other, often inappropriate milieus; the first Black Sands show at that venerated venue sold out.
As much as they would like to see Podunk Nowhere blow up, as close to their hearts as that project is, talk of the Black Sands permeates most of their animated speech throughout this first-ever interview (during which they continuously interrupt each other, like a quintessential married couple). Nevertheless, there is still a bit of Podunk in the Sands, as Heather couldn't accept the Janigas not continuing as a package deal and subversively finagled Johnny's conscription into the seven-piece outfit.
Through their ten years together, which they will officially celebrate as part of their Crackle and Shake CD release party, the Janigas have always maintained their financial independence and creative freedom by holding down jobs during the day. Although energy-draining and creativity-taxing (weekday gigs are shunned), this compromise has bestowed the self-sufficiency needed to comfortably bankroll the production of their albums while also allowing them some creature comforts and standard amenities (like a sweet pad in a great area), enabling them to live in a way that doesn't mortgage the present for the future like living in LA, New York, or Nashville does.
I Am Trying to Break Your Heart continues to cast its black-and-white glow on the proceedings, and after a while it begins to feel like an apropos continuo. The film depicts Wilco's struggle to get their album Yankee Hotel Foxtrot commercially released, initially through their unsupportive label – Warner/Reprise, which rejects it and drops the band – and finally, ironically, through another Warner imprint (Nonesuch) as their career gains momentum away from the industry. In the end, Wilco got their way without having to compromise their vision and were essentially paid twice for the pleasure. It's an inspiring Robin Hood story for any musician fighting for creative control in a meddlesome industry, but especially for the Janigas, who both cite Wilco and Jeff Tweedy as influences and aspire to the same kind of uncompromising success within the ever-elusive industry they might embrace if it would only take interest.
The Janigas exhibit that endemic paradox of still desiring rock stardom despite a growing awareness of its universally prohibitive price tag. On the one hand, Heather and Johnny are just as ambitious to be widely heard as anyone else in the game; they were called in to audition for "Can You Duet" even though Heather was the only audible vocalist on their Myspace demos (the producers ultimately scared them off with a comically overzealous, cheerleading coordinator and an unsurprising resistance to the Janigas performing their own material). They also once pretended to love Jesus so they could travel to a Bakersfield studio via limousine to vainly cut three demos for a Christian label that had signed a friend of theirs. And Johnny doesn't see how anyone could refuse a respected label if it came calling, even though he knows it would probably mean the death of their independence and the comprehensive retooling and control of their music and image, which would probably entail leaving the city and all of the friends and colleagues they love behind. So even as they still occasionally dream out loud of being famous in hushed, starry-eyed tones, it seems as though the Janigas have also realized that rock 'n' roll as an extension of the rotting American Dream is dead, and that they must continue the quest for publicly acknowledged greatness under their own steam.
Although they'd like to believe the quaint notion that their associates' success will trickle down and lift them up, they seem to accept that there will be no big break but what they make for themselves. In fact, whether or not they consciously realize it, the Janigas have already come to grips with this in the way they've chosen to conduct their lives and careers as an altruistic sacrifice on the altar of their art, casting themselves as pliant vehicles for their music, and not the other way around as the powers-that-be – and modern pop culture – would seem to demand. They've heard it all before, so they're going to continue on their present course and take any promising developments with a hefty grain of salt.
Johnny realizes he and Heather could very well monopolize the interview time indefinitely, so he suggests a round of questions to make sure the Troubadour gets what they need for the piece. So it is that they begin to delve into their origins.
********
Music has been a part of Heather Marie Janiga's life as far back as she can remember. She's been singing and writing songs for almost as long; born and raised in Indianapolis, Indiana, she recalls composing her first ditty with the help of 7th grade chorus teacher Mrs. Godfrey, who set her lyrics and melody to music via piano. Heather got her first guitar at 18, took some lessons, and continued getting her bad early songs out of the way shortly thereafter.
Heather met her first husband around this time, a fellow musician with whom she began collaborating. She cut her chops teeth – and learned to control her stage fright – through roughly four difficult but crucial years of regional touring with his band, Shaffer Street, wherein she mostly sang backup and played tambourine, but shined as lead vocalist on a half dozen cuts. As tough as it may have been at times, in terms of both the drudgery of touring mixed with trying to simultaneously sustain a suffocating relationship that kept her under thumb in every respect, she came out of the experience armed with the invaluable knowledge that music is her life's calling.
The cataclysm of divorce and curtailed collaboration inspired a major change of scenery. At 24 years old, Heather was still stuck in her hometown, smothered by the real and imagined whispers of the small Indianapolis music community, when she fatefully decided – despite a lifetime of California-will-fall-into-the-sea Midwest conditioning – to throw her lot in with a friend intending to give San Francisco a try. Put off by the city's high rents, they took a spontaneous detour (insert "Turn left at Greenland" joke here) and wound up in San Diego, which has been home ever since.
With an eclectic set of influences in tow – everything from the Bangles, Belinda Carlisle, Sarah McLachlan, and Tracy Chapman to Fleetwood Mac, Lucinda Williams, PJ Harvey, and Gillian Welch – Heather Marie hit the San Diego open mic scene (which she believes was then at its peak) in earnest. Crooning a small canon of homogenous early songs, and a limited guitar self-accompaniment, she found a support group in fellow artists like Ryan Blue and Lestat's soundman Louis Brazier, who helped produce her inaugural solo recordings during off hours and set up her first steady gig at the revered venue. Eventually, Heather Marie would appear at the top of the Lestat's marquees several times, building a name for herself as a bona fide, up-and-coming solo artist.
Heather moved to the much more congruous coastal borough of Ocean Beach only weeks prior to a shooting at the Chevy Chase apartments, the La Mesa residence she had just left behind. That second fateful relocation finally found her positioned at ground zero for the most important day of her life.
John Joseph Janiga III grew up in the small town of Lackawanna on the outskirts of Buffalo, New York. He recalls the household of his formative years being both happy and sad, the imprint of which can be seen in his generally cheerful, animated demeanor, while his perpetually unfulfilled Gen-X spirit gravitates toward listening to and writing more somber compositions. Raised on a steady diet of '70s and '80s music (with a little House of Pain thrown in), he picked up his first guitar at age eight and truly had his headspace rearranged by Randy Rhoads – via "Goodbye to Romance" from 1980's The Blizzard of Oz – a few years later, starting him on his musical journey.
Johnny played in a band called Chocolate Milk Jones ("Worst name ever," he jokes) for a time in the early nineties; they had to head into Buffalo to gig, as Lackawanna had no venues. (Johnny used to see the Goo Goo Dolls there in their terrible early punk days, and he fondly recalls hanging out in LA and partying with fellow Pollack Johnny Rzeznik one dog-house night right before marrying Heather.)
Johnny was all set to take the pioneer trail to the promised land of California when he received terrible news; John Janiga II had been diagnosed with brain cancer. The son postponed the exodus for a time to look after his dying father, but finally, and with his father's blessing ("Go out there and make me famous," he said, heaping even more onus on their shared name), Johnny took his dad's car and left for California with a friend and a scant few dollars in his pocket.
Johnny eventually made it to Ocean Beach, where he had his mind blown. The year was 1995, Alice in Chains and other Seattle bands were dominating the airwaves, and during one of his first nights in town he saw Superunloader's Jimmy Lewis and the band Wise Monkey throwing down a divergent sound in a random living room. The People's Republic of OB was as overwhelming as it was welcoming to the upstate New York transplant, who landed a job at South Coast Surf Shop on Newport Avenue and eventually got involved in the San Diego music scene.
Johnny was atrophying in a local punk band called Product, working three jobs, and recovering from a bad relationship when the life-altering encounter took place.
Heather and Johnny still talk about the night they met with an erudite reverence for their own mythology, as though the magic fallout of the love bomb detonated by their molecular-level collision continues to ripple into the present, which is not far from the truth. And although it transpired in anonymity, the yarn is hewn of the same incandescent threads present in many rock and roll legends.
Heather had just met and performed some of her music for Hallee, one of her new OB neighbors, when they decided to hit Newport Avenue for some drinks. They ran into one of Hallee's friends, a guy named Albert, who had a companion of his own in tow.
"Johnny was walking with Albert," Heather recollects. "Hallee and I were both already a little inebriated, so when she introduced me she said, 'This is my friend Heather. She is going to be a star.' This piqued Johnny's interest and he asked 'So you're going to be a star?' Sober, I would have giggled that off with a humble shrug. But I was buzzed, so I gave him a cocky grin and simply replied, 'Yes.'"
In response, Johnny said, "I am too."
"We got to talking and soon were throwing back drinks together," Heather continues. "[Later] that night, Hallee and I went back to his place where I busted out my guitar and played him a few songs. He seemed to genuinely like them. The rest is hazy, as I drank way too much and spent the rest of the evening in his bathroom."
Obviously, nothing physical happened that night. They both still claim to have had absolutely no amorous interest in each other during this first meeting (Heather was way too pretty, and Johnny was just another man in an ocean of untrustworthy men), but Heather does remember feeling gently overwhelmed by a mysterious sensation of being home upon seeing a painting of Randy Rhoads on the wall the following morning, and a strong desire to collaborate with Johnny on an artistic level.
"…[Johnny] called me the next day and we had nearly half of our first Podunk Nowhere album written in the following two weeks," Heather says. "Two months later, we were married."
They have been virtually inseparable since then, rarely spending any time apart from each other, which, as Johnny capriciously points out, is a miracle in itself.
The Janigas are inside-out beautiful as individuals and as a couple, and for years they've been doing what the now ubiquitous spate of boy/girl duos are trying to do. Onstage they exude a sultry charisma, and you almost feel embarrassed while you look on, as if you were a reluctant peeping Tom caught witnessing an extremely intimate private encounter. They often lock eyes as if they were staring deeply into each other's souls, revealing a connection that seems to go beyond the spiritual plane and straight to the heart of the music.
Heather has one of those perfect mezzos, rich in tone and warmly expressive; she could, as they say, sing the phonebook, or even just read it, as her lightly Midwest-accented speaking voice is just as pleasing to the ear. And she considers herself a performer, so much so that she put her guitar into semi-retirement when the intimidatingly good Johnny came along in order to focus exclusively on becoming an entertainer (something that Johnny regrets, as he had had visions of Heather as his apprentice and as second guitarist for Podunk Nowhere… a dream that may someday come to fruition, although it might be a keyboard in her hands instead of a guitar).
Johnny is a rock 'n' roll vision, the scion of a former, glorious time who fits the stereotypical rock star profile to a tee. Sure, he's got long hair, likes his liquor, and smokes more than just tobacco, but the light of an exceptionally creative musician shines through the glamorously gruff exterior. As self-deprecating as Johnny can sometimes be (he claims to have been an atrocious fish out of water when he first went acoustic with Heather), the truth is that he is one of the most consistent guitar players you'll ever have the privilege of seeing; he rarely messes up, or camouflages his flubs so seamlessly you barely have time to notice. And he's becoming less bashful about his sleeved ace: a rich baritone he is increasingly confident in, and singing with more often by the day.
During their decade together, the Janigas have given birth to three Podunk Nowhere albums, with another one on the way, and now have a cherished step-child in the Black Sands CD.
They recorded their eponymous debut in 2006 with StudiOB mastermind Chuck Schiele, who was the first to demonstrably express enthusiasm for them and their music. Although maturation has certainly occurred (they fumbled through all of their respective first times together back in Chuck's garage), it was a long-overdue accomplishment for them as collaborative artists. They did get some attention for the effort, including a 2007 SDMA nomination for Best Americana Record, but the true-to-type artists found themselves keen to move on and record something with a fuller band sound as soon as possible.
They met Strate Sound's Alan Sanderson through a mutual friend and were soon laying down tracks for the more fully produced second album, Based on a True Story, at the north county studio.
"We were fortunate to have our good friend George Bernardo drive down from LA to spend a day laying down drum tracks," Heather relates. "He brought along a friend, Doug Lund [Petty, Springsteen], to play bass. We were blown away."
…True Story garnered another SDMA nomination in 2008, this time for Best Americana, and a little more recognition in the press. But they began to notice their records weren't getting much of a promotional push after the initial release. The two chalk it up to being better at – and more interested in – the artistic part of the enterprise than the type A self-promotion needed to effectively push a release to an indifferent public. After putting so much time and energy into an album, who can blame them for running out of steam when faced with the prospect of even more, potentially fruitless work.
"In 2009, we were ready to record another album, but this time we wanted to go back to our acoustic roots," Heather continues. "We recorded Stay Warm-Hearted with Sven-Erik Seaholm in the midst of personal chaos. The day we began recording, Johnny found out he was laid off from his job. This hit us pretty hard, but we managed to make it through the four months of financial struggles. Unfortunately, this postponed the release of the album a whole year; it was released in April 2010. It was worth the wait… it's still something I can pop in the CD player and listen to without a single cringe. This is saying A LOT for me. Sven did an amazing job at capturing the beauty of those songs.
"After recording Stay Warm-Hearted, we had the pleasure of opening up a show for the Heavy Guilt one night at Winston's. After the show, Al Howard approached Johnny and mentioned he had some songs for a lady to sing, and thought I might be the right fit. He expressed interest in us all getting together and running a few of them to see how it grooved. When I was given the demo songs I was blown away… Al's lyrics are pure poetry, and they speak to me as if they are my own stories to tell… '1977' was the first song I heard and it won me over instantly. I was in.
"Over the course of the next year we pulled together an amazing group of musicians (Tim Felton, Jenny Merullo, Dave Lowenstein, and Sean Martin) and had our band, the Black Sands. We recorded our debut album, 1977, in Tim Felton's Studio during the hottest days of summer in 2010. I'll never forget singing in the little vocal booth… the heat was tangible! I've never perspired that much in my life.
"We came out with a stellar album… we had great reviews, and we went on to be nominated and finally win the 2012 SDMA for Best Rock Album. That was one of my favorite musical moments ever."
The Black Sands were somewhat dormant for the holidays, as one member went off to become a father, leaving the calendar open to writing sessions for what they hope will be another album released sometime this year. The waiting around is a little tough for the go-getting Janigas, who are always up for any kind of gig and naturally want the success train to keep chugging. But they also know how bands go nowadays, how fleeting they can be, how thinly spread the members often are (everyone is involved in at least one other band), and how good Al Howard is at moving on from projects that have outlived their freshness date. It's a bit nerve-wracking, not knowing how long this good thing will last, but for the Janigas it makes every moment spent in the Black Sands all the sweeter.
********
Anathema to the mating frenzy happening all around them, the Janigas have yet to come down with their own case of baby fever. For now, their records are their children, their creative lives demand all their time, and they can live vicariously through their kid-rearing bandmates and friends, stopping just short of exposure to the litany of banal child-rearing hassles to which we have all become inured.
"Five years from now… it's hard to say," Heather closes. "Kids are nowhere in the near future, but not completely ruled out of the picture. Johnny and I aren't sure how we feel about that… we"ll just cross that big ol' bridge once we get there!
"I'd like to put more effort into getting our sound out there into the big wide open. I've been lagging on this in recent years and it's time to turn things around.
"I'd like to book another West Coast tour, too. The trip we took up the West Coast in 2007 was amazing… awesome roadtrip/vacation. I want to recreate that if possible. For now, it's all about the music while working full time jobs to keep the roof over our head, the food on our table, and the guitars in our hands!"
Podunk Nowhere will be appearing at the Ruby Room on February 10th at 8pm as part of a benefit concert for the San Diego Center for Grief Relief.
www.podunknowhere.com
www.facebook.com/theblacksands