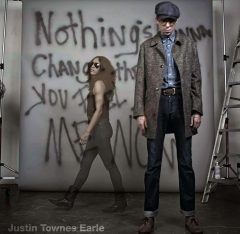 Singer-songwriter Justin Townes Earle – son of Steve Earle and namesake of Townes Van Zandt – has a lot of tradition to live up to. And at the tender age of 31, he is busy creating his own eclectic musical legacy. Since his debut EP, Yuma, was released in 2007, Earle has recorded four albums on Bloodshot Records, in addition to touring (including appearances at the Grand Ole Opry, South By Southwest, Carnegie Hall, Bonnaroo, the Newport Folk Festival, and the Hardly Strictly Bluegrass Festival), television appearances (on "The Late Show with David Letterman"), producing (Wanda Jackson's album Unfinished Business), and acting (on the HBO series "Treme"). With critics comparing him to Woody Guthrie and Bruce Springsteen, in 2009 Earle received the Americana Music Award for New and Emerging Artist of the Year. The title track of his critically acclaimed 2010 release, Harlem River Blues, earned him an Americana Music Award for Song of the Year in 2011. Although Earle was influenced by many different artists, and blends the genres of folk, blues, and country, he characterizes the overall sound of Harlem River Blues as "rockabilly bravado." Others described is as "urban Americana."
Earle's latest album, Nothing's Gonna Change the Way You Feel About Me, released in 2012, aims in a different direction. Nothing's Gonna Change contains 10 original songs, nine penned by Earle and one ("Down on the Lower East Side") co-written with Dustin Welch. The album was recorded "live" (that is, with no overdubs) in a converted church in Asheville, North Carolina (Echo Mountain Recording Studio) over a four-day period with Harlem River Blue's co-producer, Skylar Wilson. Earle calls Nothing's Gonna Change a turn toward "a Memphis-soul direction," and there are subtle horn arrangements that reinforce that feeling on some tracks (particularly "Look the Other Way" and "Memphis in the Rain"). Overall, the songs on Nothing's Gonna Change are mainstream Americana, blues, or country-flavored folk (the exception, "Baby's Got a Bad Idea," is straight ahead rockabilly). The melodies are uniformly engaging, especially on "Am I That Lonely Tonight?;" the title track, "Maria"; "Memphis in the Rain"; and "Movin' On." "Down on the Lower East Side" invokes the gritty feel of early Tom Waits. "Won't Be the Last Time" and "Unfortunately, Anna" are sad dirges of failed romance and urban despair, respectively.
Earle's distinctive vocals are showcased by his own acoustic guitar, tasteful electric guitar accompaniment by Paul Neihaus, upright bass by Bryn Davies, organ, and keys by Wilson, drums by Bryan Owings, and harmony vocals and fiddle by Amanda Shires. My only complaint about Nothing's Gonna Change is the overarching bleakness of the lyrics – loneliness, heartbreak, hopelessness, alienation. Steve Earle and Townes Van Zandt managed to find positive themes to write about even as they fought their demons.  Next time out, Justin Townes Earle should explore happier material.