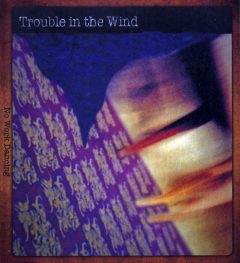 North County alternative rockers Trouble in the Wind have released two EPs, including 2010's Gone and Done It, both with flashes of promise in the midst of a sound dominated by rough acoustic roots, garage rock sonics, and dominated by front man/songwriter Robby Gira, whose vocals are an acquired taste.

Done It had several country grooves, but the new full-length disc, No Work Dancing is a different matter. The things that haven't changed are the home recording; the last disc was put together in double bassist Trevor Mulvey' attic; this one has a similar feel. And Gira still has a voice many listeners will either love or hate – over-emotive and anguished – though on this disc he has it under better control more of the time than previously. The big changes include solid new drummer Larry Doran, who is at home with both the harder rocking and the acoustic stuff and adds dynamics and power unheard in previous Trouble tunes. Also, the general quality of the songwriting has improved, on several tunes taking a quantum leap forward.
The opener, "Molina (oh yeah)" combines sloppy garage-band recording with a generic melody, and just when the listener is ready to hit skip, it dissolves into a pleasing closing chorus. "No Work Dancing" follows and shows the difference that Doran makes, he drives this very good, even radio-ready tune with a headlong driving beat, and great Steve Cropper-style rhythm guitar licks by Kyle Merritt help along the drum groove (which recall Spencer Davis' "Keep on Running").
An acoustic tune with a country touch that works well is "Trains", with Gira subdued and singing harmonies while the strong melody is augmented by Merritt's interwoven electric guitar licks. Gira laments "I keep trying to walk, but I just fall down/ It's just no use" about his failed relationship. Next up, "Drink Whiskey" has power guitar riffs and stops, and rocks hard, with multi-tracked guitar bridges, and is a definite highlight, Gira's full-throated vocal fits, and again the drum-guitar interplay is superb, especially a speed-chorded coda with an fluid solo overlaid by Merritt. Yep, it's about getting plowed on whiskey, but it's tight.
"Easy Goin'" is totally different, a country-flavored mid-tempo tune with banjo helping set the scene as Gira is making a confessional for his trip to hell, to be tried for his transgressions. It's basically a catchy country outlaw tune, and Gira's vocal holds back the dramatics and makes it work well. The last two tracks are unusual: "Big Razor" is written and sung very well by Lauren Reeder, with help on the harmonies, and this soft pop-folk piece is fine, but it sounds like a track from some other album. "Larry Likes Love" is sung well and likely written, by Doran; it's two minutes of fun with accordion riffs and expressions of undying love for his bride. Filler, maybe, but not bad.
No Work Dancing surpasses expectations and contains several top-notch tracks making this disc worthwhile. It takes a few spins to catch on, but is worth the effort.