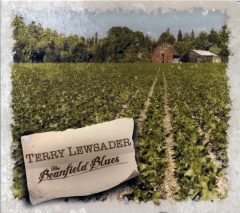 Many songwriters in country and roots music tend to sing their own material, and this often yields fine results. Not always, though: there are plenty of situations when otherwise good material is spoiled because the vocals that don't measure up due to limitations of the writer's voice. LA alt-country performer Terry Lewsader avoids such pitfalls on The Beanfield Blues, his new album, by composing a batch of compelling songs, adding his considerable talents playing guitar, pedal steel, and other instruments, and producing-and leaving the singing on the 10-song project to nine others.
Aside from the diversity of sounds that this approach gives, another thing that is striking about this disc is the high level of musicianship, mixing, arrangements, and general studio wizardry present. It is an independent release, but sounds like the flawless product of a major studio. Some of the backing cats have played with top country stars, but Lewsader and the vocalists stand out the most. He is one of those "anything with strings" wonders, but mostly sticks to pedal steel, acoustic, and electric guitar.
David Upton is the featured singer on three tracks, and "Pieces" starts things off with his deep, rough-hewn voice leading the way on a power anthem about populist ideas like the rich man taking the birthright of the working man, "Load the wagons well/ We're about to go through hell/ Fighting for all the pieces we lost." It is a winner, and the level stays high as Upton is still at the mic for "Old Beliefs," another ballad that packs plenty of punch, sailing on Lewsader's pedal steel cries and sharp guitar solo; again it's catchy and has something to say about how the values that built our society are getting shipped, just like our jobs, overseas. Sutter Zachman takes the vocal on "Story of My Life," which is a softer and more traditionally country song, and it is excellent. This time, Lewsader plays guitars, pedal steel, mandolin, dobro, and accordion as Zachman confesses the failures of his wayward, gun and alcohol existence.
Linda Lamb is the singer for "Supposed to Do," a lively, brisk country shuffle that has a super-catchy chorus featuring her clear voice climbing the heights, a highlight on a disc with many. The instrumental "Cades Cove" is a toe-tapping bluegrass/country piece with Al Perkins on dobro, Byron Berline (featured on several disc tracks) on fiddle and mandolin, and anchored by Lewsader on acoustic guitar and drums; it's a tasty keeper. Upton (an LA singer with a gospel background who is a real find) is the perfect choice for "Stop Breaking Down," which flirts with country-rock in delivering a high-octane, riveting protest message. He's jumped the metaphorical train East from LA, and doesn't like what he sees the 1% doing to the rest. "You made your moves so slowly/ You sacrificed the pawns/ Just so no one would notice/ That all their freedom's gone." Hard to disagree.
Terry Lewsader's The Beanfield Blues is solid country, infused with rock energy, populist politics, and polished musicianship.