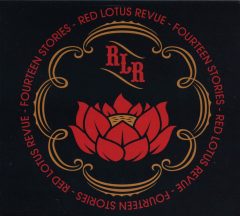 Fourteen Stories is the debut by Red Lotus Revue, a San Diego blues outfit built around the Chicago-style harp playing and vocals of Karl Cabbage, drummer Kurt Kalker, and an interesting dual guitar, "no bass" setup with axe men Pete Fazzini and Jimmy Zollo. The new disc is half originals, half covers, but the focus is old school: all Chicago blues. The covers include tunes by Sonny Boy Williamson, Jimmy Reed, and two by Johnny Shines.
Cabbage has a good blues growl that is just right for the material, and his harp is sharp – he cites Little Walter as an influence, doesn't play "look at me" speed harp licks, and avoids letting his bullet mic smother his top end. Both guitarists are uncluttered purists who share the solos and they're difficult to tell apart, aside from Zollo's smooth mother tone and Fazzini's Jimmy Vaughn phrasing. The song selection is excellent, but the live, in-the-studio recording and mix is muted on the high end, as if the amps and equalizer HF settings were turned way down and the mix adjusted to dampen the sound. Likely deliberate, perhaps to enhance the bottom of the rhythm guitars' bass-lines, this doesn't spoil the sound, but on some tracks Kalker and Fazzini's lead guitar are buried.
"Suzanne" kicks off and this original lets the listener know the guys are serious; though the band uses no bass, this powerful tune is a bass-drone dominated boogie with nasty, warbling harp by Cabbage. The classic "Ain't Got You" is next, a nugget covered by every blues band worth their salt since 1956 – and a good acid test of the Revue's mettle, passed with honors by their direct, effective reading. "Please Don't" is a rollicking Johnny Shines blues rocker, "Don't put your hand where your money ought to be/Cause if you do you're liable to hear from me." This one really finds Cabbage in his element, one of the best tracks here.
"Barkin," like the other originals by Cabbage and Zollo, stomps hard and gives all three lead instruments a chance to stretch out, sort of: in Chicago blues, long solos are a no-no, what counts is being tight, economical, and paying respects to what has gone before. The Revue are solid in all of these areas; another example is "River," with Zollo playing bottleneck guitar on a rave-up that is a clear descendent of "Rollin' and Tumblin'."
On Jimmy Reed's "Honest I Do" a loping mid-tempo blues with tricky bridges, Cabbage turns in his best vocal and the band shows another aspect of its versatility. And then sometimes, it's just time to let it rip and boogie, and Chester Burnett's "You Can't Be Beat (Go to Sleep)" works just fine for this late-disc highlight. At disc's end, "Santee" is included about the local scene with some nice licks; too bad it's a noisy demo cut with a barely audible, unnecessary outtake before it.
Fourteen Stories is a must-have for blues fans, especially of the traditional Chicago blues, and it's a great listen.