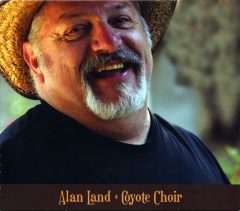 Alan Land is a very lucky man. He is gifted with a wonderful voice, a rich baritone that is ideally suited to country songs and ballads, lullabies and reels, Broadway hits, and favorites from the Great American Songbook. Land is a crooner in the tradition of country greats such as Jim Reeves and Eddy Arnold, yet he can let loose and belt out a chorus or two from time to time. After a musical life that includes a stint as a pro in the Lake Tahoe area and years of hitting the open mics and piano bars around San Diego, Land has Released Coyote Choir, a CD of ten self-penned songs.
Culled from nearly 20 years of songwriting, the tunes reflect a range of topics and experience. "Chase Those Blues Away" is a simple tune, almost a ditty of sweet child-like whimsy, while "I Remember It Well," a breezy, easy-going waltz, describes the love of an aged couple who, though their memories are greatly faded, still remember their love for each other through the years.
As well, there are more songs of love. The charm of falling in love is gently conveyed in the opening song, "I'd Rather Be Alone With You." And there is the charm of falling out of love, which Land sings of in "Really Not Over You." He was obviously having fun with this one, giving the song lyrics that are catchy and clever. Possibly the most beguilingly simple tune of the disk is "Makes the World Go Round." Love makes the world go round. What else can you say?
"Surrender to Win" is another love song, yet the overriding theme of going with the flow and letting go take this tune to another level. Land gives some social commentary with two songs. "Johnny Doncha Know" dramatically describes a life recklessly lived and wasted by drugs. And with "Here Lies the American Dream," maybe my favorite song on the disk, Land places himself as the personification of the ideals of America, which, over the last two or three decades, have been trampled by commercialism and big business. He sings that all that is left of the American Dream is the hope of being remembered on an epigraph.
Also, and unusual for a majority of singer/songwriters, the songs on Coyote Choir encompass a variety of styles, from old-time folk to bluesy urban groove. A few of the tunes place themselves in the Tin Pan Alley, American Songbook tradition. "Really Not Over You" even includes a retro, psychedelic electric guitar track played backwards, the kind you hear on your parents' or grandparents' Beatles records. It doesn't matter if the Walrus was Paul or John, this effect is pretty cool and groovy. I swear I could almost hear someone in the background saying, "number nine, number nine, number nine…"
Recorded and produced at Sven-Eric Seaholm's Kitch & Sync Production, the line-up of musicians Land chose to accompany him include Jeffery Joe Morin on harmonica, Mark Richards on bass and piano, mandolinist Steve Kritzer, and drummer Billy Ray.