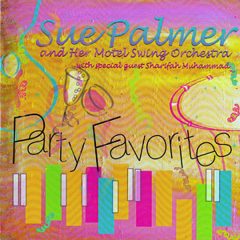 Anyone who has been to a show by Sue Palmer and her Motel Swing Orchestra will let you know that this ensemble is a rambunctious crew, prone to spontaneous outbursts and high-energy performances. And though all the veteran musicians of the Orchestra have been with the ensemble for years and years, the enthusiasm and sense of fun that have distinguished this band since its inception still shine.
The good times continue with Party Favorites, the latest release from Palmer and her Orchestra. Though a studio effort, recorded at PHPRO Music, and engineered by Pete Harrison (Hey, wait a minute. Isn't he the MSO bass player?), Party Favorites nonetheless captures the excitement and joy of one of the MSO's live performances. Packed with 11 gems from decades past – there are hits from Glen Miller, Duke Ellington, and the Andrews Sisters, as well as a few more recent offerings – toes are ensured to tap and some folks might even get their dancing shoes on.
The rhythm section of drummer Sharon Shufelt and Pete Harrison on bass remains solid. Shufelt plays with pizzazz, and Harrison defines a solid down beat. I particularly liked the swampy New Orleans feel that they give "Lovey Dovey," a 1950's hit from the Clovers that opens the disk. As well, it's a nice touch for Harrison to use his bass to introduce the melody on "Don't Get Around Much Anymore." I've always liked Steve Wilcox's guitar playing. He draws on some of the best blues masters of the fifties. And his retro sound and approach add an intriguing edge to the band's take on Henry Mancini's theme to the Pink Panther.
Deejha Marie has always been a self-assured singer, comfortable with her phrasing and delivery. Her approach exemplifies confidence and élan, and nowhere is this more evident than on Party Favorites. With an easy delivery, trombonist April West sings "Cow Cow Boogie." Whoda thunk that this talented instrumentalist, who does some really fine soloing when she's playing her horn, could sing? While we're talking about singers, the addition of Sharifah Muhammad adds a new dimension to the MSO. Her powerful and dynamic delivery reignites the soul of the Ray Charles' classic "Nighttime Is the Right Time." I can't help but think, "Wow!" when I hear this young woman sing.
As with fine wine and artwork by dead painters, there are some notable things about the Motel Swing Orchestra that have improved with age. The vocal harmonies are silky smooth, in particular on "Lovey Dovey," which opens the disk, and the Yiddish-based jazz standard "Bei Mir Bist Du Schoen." And of course, with her boogie-woogie piano serving as the backbone of the Motel Swing Orchestra, there is the woman who brings it all together: Sue Palmer. There is a lot to be said for someone who can lead a band for years and years and keep the music as fun and exciting as it ever was.