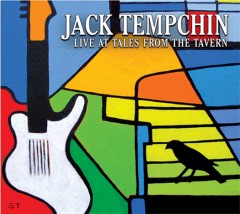 Don't tell anyone I told you this, but there's a bootleg recording from 1973 of Jack Tempchin (with his friend Tom Waits) performing a song called "Tijuana" at Lou Curtiss' Folk Art Rare Records. The mood of the song is playful, homespun, and jocular as the two San Diegans harmonize about the challenges of driving home after a bender down South. The recording was made just before the two made history of their own.
Jack Tempchin's life after 1973 would be a whirlwind of rock star fantasies. He would write some of the finest and best-selling pop songs of the last 50 years. He would tour with the likes of Ringo Starr. He would spend the next 35-plus years in the spotlight as a performer and bandleader.
Much of that changed, however, a few years ago when Tempchin decided to go back to his folk roots. Instead of performing with a backing band, Jack began gigging solo, alone on stage with just his voice, an acoustic guitar, and his harmonica. This is the Jack Tempchin that first began playing the San Diego folk circuit in the mid-'60s at places like La Mesa's Candy Company and SDSU's Backdoor.
The latest chapter in this new phase is the album titled Live at Tales from the Tavern. (Tales from the Tavern is a venue in Santa Ynez, near Solvang, California, which regularly features an all-star who's-who from the 1960s and 70s folk-rock scene including David Crosby, Chris Hillman, and Herb Pedersen.) The Tempchin CD also comes with a DVD recording of the same show.
The album features 11 songs that are sure to take any Tempchin fan down memory lane. Hits such as "The One You Love," "Already Gone," "You Belong to the City," "Slow Dancing," and of course "Peaceful Easy Feeling" weave their magic throughout the set while appearing fresh and new, due to the fact that now there is no backing band, no vocal harmonies. It's just Jack, alone, and stripped down to his bare essence.
Alternating with the usual hits are little surprises such as "Amy," a song that Jack wrote as part of his Song a Day journal. ("Amy," a very clever piece of narrative storytelling, is journal entry #23 in case you want to look it up on Jack's website.)
Another highlight is "Bender" from Jack's 1995 Lonely Midnight album. This belt-'em-out blues shows that Tempchin isn't all about easy-feeling rock and slow songs. Here he musters up the greatest ghosts of the Mississippi Delta to howl about a night (or a week) of drinking not unlike the night recalled in 1973's "Tijuana."
Rounding out the set are some of my personal favorites, including "Loneliest Piano in Town," "Jazzbird," "Lovers Like Us," and "Jesus and Mohammed." The end result is a masterful tour de force by a master songwriter and country-rock journeyman.
Missing are "Smuggler's Blues" from the 1980s TV show Miami Vice and a personal favorite of mine "Out in the Desert" from Jack's 2007 album Songs. But, then again, hey, a guy who has written hundreds of songs and is now dedicated to writing one song per every waking day can't include everything from his repertoire. Besides, now there's a reason to release a follow up album some day soon…hopefully, very soon.