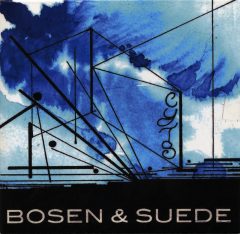 Bosen & Suede's self-titled debut EP is a six-song set of acoustic pop sung by the local singer/ songwriter duo, featuring Brian Bosen and Craig Furnivall (aka Craig of Suede). San Francisco native Bosen is a good singer in the Jason Mraz mold; Furnivall is an Indiana transplant whose moved west and joined up with Bosen for a two-singer, two-guitar, tradeoff/harmony approach.
"Making Chances" illustrates their strengths: a choppy guitar baseline with funky bridges, and the two taking turns singing verses (about the beauty of a desired woman). On a tasty bridge, Furnival overlays his high-vocal answers to some lower-sung lyrics by Bosen, with an intriguing chorus harmony blend. Bosen handles the lead vocal well on "Horse Made to Drink," a catchy minor-chord tune with plenty of lyrical metaphors. Furnivall accuses a deceiving lover, "You never loved me/ You only loved attention" on "I Only Asked for Everything," and he sounds hurt as the tune makes an emotional connection. There is a bluesy riff behind "Mop You Off Your Feet," some lowdown singing by Bosen, "Our love is just a little dirty/ I want to scrub you clean," and it clicks. The two cite Simon and Garfunkel as an influence and the best track here, "Shoebox," shows it. Call and response, high-low alternating vocals, and soaring harmonies give this song an ethereal quality.
Though not all of the songs are as good as "Shoebox," Bosen & Suede's debut offers an interesting batch of refreshing pop, definitely worth a listen.