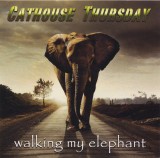 Twelve years ago Will Faeber returned to San Diego after spending some time in Europe where he enjoyed a successful hit record called No Small Comfort. Back in the States he signed a record deal that quickly went sour and the subsequent lawsuit dragged on for years. In the meantime, Faeber and his friend John DePatie surrounded themselves with the finest musicians they knew and set about recording what would become Walking My Elephant. Shelved for over a decade, the project was finally released earlier this year.
Though there is undoubtedly a calculated silliness to grown men playing Rock 'n' Roll, this is not your weird uncle's garage band. Faeber and company have crafted a sophisticated collection of urbane soft rock not unlike Steely Dan. Keen observers of pop music know that Steely comparisons are rare, but they are well-deserved here.
Lead vocalist and principal songwriter Faeber is the session ringleader who oversees the proceedings with a natural ease and instinctive grasp of jazz-rock subtleties. The individual performances on the record are tasteful and dynamic. This writer was not surprised when research revealed that the album sessions included contributions from a string section that has worked with Steely Dan, in addition to horn support from members of the Brian Setzer Orchestra. The horn charts are clever and complementary, seamlessly woven into the fabric of some tunes while elsewhere stepping to fore, like the baritone sax that leads the charge through the swaggering big city blues romp "Cold Concrete."
Faeber sings in an unaffected, conversational style, sometimes making his lyrical delivery feel like a letter from an old friend. His husky voice has a distinct twang that brings an unexpected down-home feel to an otherwise elegant affair. It's a clever contrast that sounds natural, not contrived. Clearly a labor of love, this project contains some unexpected philosophical undertones in the lyrics that indicate Faeber is a heavy thinker. That sort of thing rarely translates well in the lyrics of pop music but Faeber's fables and heartfelt soliloqies soar with grace and an utter lack of pretention. No easy feat, but it flows out of Faeber as natural as a stream down a mountainside.
Cathouse Thursday's songs range from mid-tempo rockers to ballads and blues, with a casual '70s rock feel throughout the record that may make some listeners long for a vinyl copy to spin. There's even a little bit of an island groove here and there when Faeber and friends step the Jimmy Buffett-style Mariner's Boogie up a notch or two. If Buffett ever gets it in his head that he'd like to re-claim the glory of his mid-'70s material that first put him on the edge of the map, he'd be wise to tug on Faeber's sleeve for a few songs.