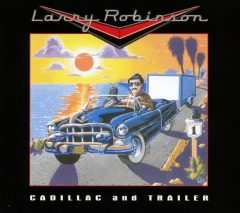 Fallbrook is hometown to Larry Robinson, who has been playing music for decades. He was a member of Things to Come, a band that played LA's Whiskey A Go-Go in 1967 with the Byrds and cut records. He also recorded several discs for the Dorados, a band whose songs mainly celebrate fishing. He has also been a club mainstay in the North County with a solo CD, Old California Town, released in 2005. Now he's back with Cadillac and Trailer, a mix of nine Robinson originals and one cover, many about the life of a musician on the road.
Robinson has a baritone that is both deep and instantly endearing, and his vocal depth gives the songs more heft. For this project, he backs up his own guitar and banjuke playing, surrounded by stellar instrumental support: keyboardists John Foltz and Wolfgang Grasekamp, bassist Chris "Sully" Sullivan, drums by Bill Ray and Larry Grano, Tony Dean on electric guitar, and pedal steel player David Berzansky. Producer Sven-Erik Seaholm captures all of them in a crystal-clear mix.
Robinson starts "Next to You" off with "Driving down the highway by the ocean…" and it sets the tone perfectly for most of the album. To a speeding beat, with fluid guitar fills by Dean and tasteful keyboard touches by Foltz, Robinson hammers home his catchy message to a longtime road lover about his deep need for her. On "Cadillac and Trailer," it's much more of a honkytonk blues about how it's cheaper than a bus getting from show to show, "I back in the trailer/Unload it myself" (no lyrics in the artwork, a shame for a wordsmith like Robinson).
"Play the Music Right" is a standout track about playing music in road clubs, and whipsaw steel playing by Berzansky is outstanding as a foil for Grasekamp's keys, and Robinson is in total command with the tune's riveting hooks. The level stays high with a darker number that has great lyrical imagery about an old blues singer, Ophelia, as Robinson's deep-as-a-well voice again carries, this time over a minor-chord riff. On Gregory Page's "Dusty Road" there are moments when his voice echoes Johnny Cash; tonight home is going to be a truck stop, and Hank is on the radio.
Robinson has a message in "Black Cowboy" about the freed slave cowhands who drifted from the South to come out West after the Civil War to work on the cattle drives. The tune is simple, its lesson important. "Jezebel" gives Robinson an opportunity to set things straight with a betraying lover, "Playing with men is like playing with toys/ A list of broken hearts is your pride and joy".
The finale of this disc of road music is another highlight, "Daddy's a Dreamer." This softly played bit of autobiography is about being the son of a guitar playing, traveling minstrel and how that not only isn't such a bad thing, but can also get handed down.
They used to call this kind of thing a "concept album," and with Cadillac and Trailer, Larry Robinson delivers the goods.