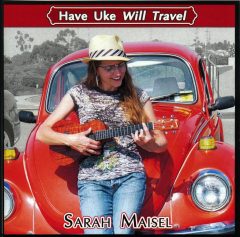 The popularity and possibilities of the ukulele have exploded in the past several years, and the million-hit YouTube sites of various virtuosos playing Beatles or Hendrix songs with jaw-dropping technique aren't the only places this phenomenon is evident. Once a novelty outside of traditional Hawai'ian and hapa-haole music ("half-white" pop music with English lyrics based on island themes, with Hawai'ian instruments), the uke is now seen everywhere from country to folk and jazz.
Enter Sarah Maisel, a jazz-loving Alabama native with some classical music training who came West to work at UCSD after college; after exposure to a ukulele group in 2006, she was hooked. She learned fast and credits the impressive technique on her debut CD, Have Uke Will Travel to teacher and mentor Frank Leong. It is only one of the strengths of the album, though: the material is a group of universally familiar nuggets from the Great American Songbook, the ten songs mix in instrumentals with vocals, and-best of all-Maisel's delightful voice makes the jazz standards here come to life as much as her spunky uke strumming. Good support from Leong, Zack Coffman, Duncan Moore, Jim Soldi, Glen Fisher, and other local studio musicians, along with great arrangements by Maisel and producer Tim Coffman, also help matters.
"The Lady is a Tramp" is rollicking swing jazz with Maisel's precise ukulele chording and intricate solo dominating, she manages to cover keyboard touches and alternative string voicing in the instrumental. Her vocal power on "Walking After Midnight" sings answers to some nice Hawai'ian steel accents by Gary Brandin; like on several other tracks, the uke gives this classic a shot of energy – more oomph. With "Lullaby of Birdland" it's easy to (almost) forget about Maisel's novel instrumentation and superb solo as the jazz-combo arrangement and excellent singing turn this chestnut into a disc highlight.
"Nearness of You" is an nicely textured, instrumental showpiece that Maisel uses to cast a spell of harmonics and beautifully picked, lyrical figures that sound almost like they are being played on a harp. There are two hapa-haole tunes on the album, "In a Little Hula Heaven" and "Blue Hawaii," As a singer, though, Maisel is most at home on the jazz numbers.
Cole Porter's "Don't Fence Me In" clicks, as the synergy between Maisel's light and playful vocal and the bouncy ukulele beat give it the swinging momentum that the lyrics call for. Anyone who has tried to play uke and found it "plunky" needs to hear the instrumental "Misty" that Maisel plays as a solo piece to close out the disc. The timbre and clarity she achieves transfix the listener, as the ukulele becomes a lute, a guitar, and a mandolin-yet not…
Have Uke Will Travel is not just for ukulele fans, though all who are will love it. It stands up as a Sarah Maisel jazz album that features ukulele, and a good one.