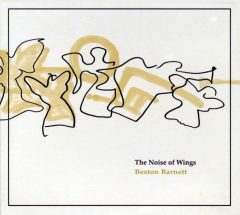 When I listen to gospel music it's mostly the primitive Baptist music of Southern Appalachia, or a good Jubilee Quartet like the Golden Gates, or the Heavenly Gospel Singers or maybe a more modern '50s-ish group like the Swan Silvertones or Dixie Hummingbirds. Maybe I'll listen to a fine bluegrass or old timey gospel number by the Blue Sky Boys or Bill Monroe. I almost never listen to modern gospel songs and I don't believe Beston Barnett has much either. In his latest CD, The Noise of Wings, I hear a lot of old time sounds here. Some have been taken and played in a style that heretofore haven't been done before like a knock out West Indian version of "Angel Band" and another of "Just a Closer Walk with Me" and an almost bluesy version of "Rock My Soul in the Bosom of Abraham." Some are more or less presented in a near traditional manner like "Moses Moses," which sounds like an old Georgia sea island presentation, or an African piece "Nkosi Sikelel' lAfrika" or right out of a Golden Gate Quartet 78 "Swing Down Sweet Chariot" and one of those more modern churchy groups gives out "Old Ship of Zion." Little highlights of jazz, various kinds of Latin and African rhythms plus some very tasteful resonator guitar licks top off the score.
Where it's needed you might hear the clarinet of Matt Gill, or the drum kit of Matt Taylor, or the cornet of Bruce Vermazen, or even some harmonica, whistling and triangle by Jeffery Joe Morin, Pete Miesner, and Chad Farran; and the bongos of Aaron Irwin, but only where it adds something to the performance. I hear so many presentations where friends are added to the mix, only I think because they are friends and they only add to a mix that doesn't sound anything like the performer intended, but you can't refuse that "hey, can I be on your CD and my feelings will be hurt if I'm not" vibe. That isn't the case here. In most every case the backup is just what is needed to make the performance what it was intended to be.
My only beef, and it's often my beef with records of most any era, is that I'd like to know more about the music and how he came in touch with it. I like to know who wrote the song, and when. Did he hear it on an old record from his parents collection, discover it on his own, or maybe in some other way. No matter, this is a fine recording, the music is tight and well put together and should please those who are gospel fans or not.