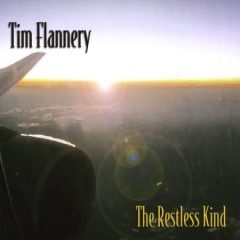 Tim Flannery is an amazing phenomenon. Most people struggle to distinguish themselves in one career; at 54, Flannery is already on his illustrious fourth. He has been a professional baseball player (including 11 years as a utility infielder with the San Diego Padres), a major league coach (with the Padres and the 2010 World Series champions S.F. Giants), a TV and radio broadcaster, and an accomplished Americana songwriter-musician. The indefatigable Flannery's latest album, his 11th (including a live album), titled The Restless Kind, explores the theme of travel, with which he is well familiar, due to the peripatetic nature of his first and second careers — think 200 nights a year on the road for the past 30 years. Travel has profoundly influenced Flannery. The opening track of his first album, Looking Back (1995) is titled "Back Out on the Highway," and his prior albums include Highway Song (2002), The Wayward Wind (2007), and Travelin' Shoes (2009). Many of his songs have been composed on the road. Unlike the tales of loneliness and despair that often emerge from homesick road warriors, The Restless Kind focuses on the importance of savoring every moment of the journey and the joy of returning home. The word "maudlin" is not in Flannery's vocabulary.
Flannery's "sweet spot" (to use a baseball term) is "feel good" songs with personal lyrics and upbeat messages, emphasizing hope, faith, and devotion. His palette tends toward country-folk, ballads, and bluegrass. Flannery's voice is as pleasing as his disposition, and it is a testament to his appeal that he manages to surround himself (here and elsewhere) with first-rate musicians. Flannery penned six of the 11 songs on The Restless Kind. The original tunes range from tender ballads ("Whatever Comes," "Kiss Me Like It's Saturday Night," "Breaking Things") to country- folk ("Thousand Roads," "Climbing") to bluesy ("The Restless Kind"). The rest are covers of Kacey Chambers' bluegrass romp "The House That Never Was," Robert Earl Keen's theme-appropriate "I'm Coming Home," the bluegrass standard "When the Roll Is Called Up Yonder," Gregory Page's moving "Right or Wrong" ("It's never too late to be the person you were meant to be"), and Vince Gill's reflective "Somethings Never Get Old."
Flannery is backed by his excellent band, The Enablers, consisting of multi-instrumentalist virtuosos Dennis Caplinger (banjo, fiddle, dobro, mandolin, ukele) and Doug Pettibone ( electric, acoustic, slide, lap steel, and pedal steel guitars), with Jeff Berkley (who also produced) on drums, percussion, guitars and piano, joined by Erin Breen (L.A. Philharmonic) on cello (to great effect on "Whatever Comes" and "Right or Wrong") and Doug Walker on upright bass. The backing vocals of Randi Driscoll and Barbara Nesbitt perfectly complement the deft arrangements, particularly on "The House That Never Was," "Kiss Me Like It's Saturday Night," and "Climbing."
All of the tracks are well-rendered, but "Right or Wrong" and "Thousand Roads" stand out as nearly perfect.