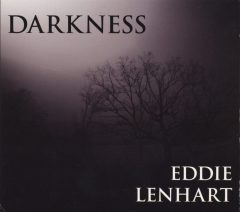 When last heard from on 2009's Levittown, San Diego's Eddie Lenhart wrote and sang a batch of interesting countrified folk-pop tunes. Most were given a lush studio treatment that wrapped his vocals in heaps of keyboards, three-part harmonies, and multi-tracked guitars to good effect. For his latest offering, Darkness, Lenhart again enlists top-shelf studio musicians (including roots veteran Cathryn Beeks on backing vocals, Doug Pettibone on slide and steel guitars, and Jim Soldi on electric guitar), plus the talents of Jeff Berkley as musician, producer, recorder, and mixer.
The new CD's approach gives plenty of solid musical support, but Lenhart's limited voice is much more out front and center. Some of his vocals are right on, while others don't work as well. Since the ten original songs are also hit and miss, the disc becomes a back and forth affair, but not one without some high spots.
''Movin' On'' is a strong start for the album, a catchy acoustic tune with a funky beat, Beeks giving good support on the choruses, and a simple musical and lyric message. It is a hummable, standout track. Lenhart scores again with ''Tears Not for Me,'' a well-arranged breakup ballad, again with sharp harmonies. There are problems with ''They Laid It on the Line,'' which begins with the first 30 seconds of melody being co-opted from ''Sandman'' by '70s popsters America. For the rest of the tune, Lenart's lyrics and vocal just don't mesh with the powerful, Crazy Horse-style arrangement with hot slide guitar by Pettibone.
Lenhart sends a personal farewell to his late brother Jeffrey on ''Carry on My Way.''
"A brother's love is stronger than steel/ We almost rose above it all/ All we tried not to feel." Lyrics (not provided in the artwork) aren't Lenhart's strong suit elsewhere, but the emotional connection elicited on this tune is tangible. On "Baby You Were Right," an apology ballad, he sings with surprising power; add good harmonies on the bluesy choruses and a big arrangement and the result is another highlight. Lenhart tries something completely different on "Stay Where You Stay," a short rocker that draws from late-'60s Kinks/Stones ancestry. It has a driving lick, hot guitar fills, and aggression not heard anywhere else on the disc.
After stumbling all over impossibly clumsy lyrics on "That You Can't Hide," such as "And grace has succomb to substance of illusions," the title song bounces back. Here, Lenhart is telling about the how "Darkness is my best friend," and yet feeling unable to be free because of it. The gloomy, keyboard-dominated song again shows his ability to convey a personal side. He tries again in "Tell Me Why," which directs a series of poignant questions to a drug abuser; this one gets an A for message, but musically falls flat.
While Darkness is a mixed bag, Eddie Lenhart clearly succeeds in making a record about personal experiences, feelings, and emotions. The memorable tunes and great musicianship on hand gives it an added boost.