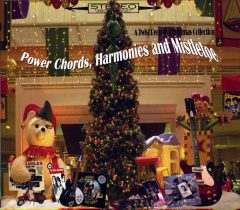 A 21-song collection of seasonal good cheer, this CD's most significant achievement is the number of San Diego-based artists who have teamed up with musicians from such diverse locations as Australia and Guernsey. There are five tracks featuring local independent talent.
No surprise finding local musical veterans the Shambles in the mix. David Bash, International Pop Overthrow music festival founder, believes the Shambles have been on more compilations than any other pop band (he's probably right). Shambles front man Bart Mendoza leads the group through a spirited rendition of Connie Francis' "Warm This Winter." Connie recorded more uptempo "girl group" recordings than she's often given credit for, and this is one of her best. Bart's brother, Joe Mendoza, has released some entertaining recordings with his band, the Spring Collection. "Christmas With You" (written by both Mendoza brothers) continues the Spring Collection's Bobby Fuller-meets-Marshall Crenshaw Americana sound. Rockola's "Just in Time for Christmas" is a rarity from a decade ago and features the band's classic lineup of Bob Tedde, Mark DeCerbo, Doug Booth, and Larry Grano. Skid Roper's storytelling ability is prominently displayed on "Christmas Mystery," a song that combines "who done it?" wordplay with film noir music. San Diego resident Barry Scott performs on "This Christmas," a 1981 song recorded during his time with Chrysalis recording artists the States.
Although they are not from San Diego, the Britannicas give a musical shout-out to former North County resident (and Rock and Roll Hall of Famer) Chris Hillman. There might be a possibility that the egg nog was spiked when these boys laid down the tracks for "Chris Hillman Christmas." Whether or not that's the case, the song manages to praise Hillman and at the same time poke fun at some other bands. One of the annual rites of summer is when Michigan pop legend Jeremy Morris appears on stage at Lestat's in Normal Heights. Jeremy took advantage of the cold Midwestern winter to write new material; for this CD, he contributes "Christmas Every Day."
Other highlights include Kenosha, Wisconsin's Click Beetles ("A Christmas Wish"), Italy's Smodati ("In Tempo per Natale"), and Spain's Los Immediatos ("Just Let it Snow"). Produced by veteran studio ace Earle Mankey (the Long Ryders, Beach Boys, Sparks, the Runaways, and many more), Power Chords, Harmonies and Mistletoe is the perfect musical recipe for those hosts who wish to put a little "oomph" into their festivities this season.
(Available through Amazon.com or CD Baby.com.)