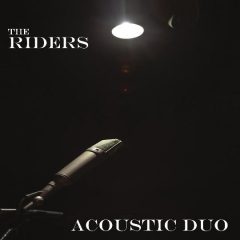 The Riders, in full complement a quintet playing roots-rock, was profiled in a cover story in the May 2010 issue of the San Diego Troubadour, along with a review of their second studio album, Crown City Sessions. This time out, the Riders appear as an acoustic duo (consisting of front man Tom Cusimano on guitar and piano and Devin Shea on violin), with an album so titled. The 16 tracks, all original material, were recorded "live" (with no overdubs) at Signature Sound Studios in San Diego. Acoustic Duo, which was produced by Cusimano (who also wrote all the songs), includes four new (previously unreleased) songs and 12 covers of tunes previously recorded by the full group from their first album, 200 Miles From Everywhere (2006), the 2009 Crown City Sessions, and a 2010 session recorded at Sun Studios, released via MP3, titled Memphis. Cusimano and Shea, who have played 150 gigs as an acoustic duo (including opening for America at Humphrey's), selected the songs from the group's repertoire based on their instrumental distinctiveness. The "new" songs are "Simple at its Best," "These Stones," "Greatest Day," and "In Pieces." The "covers" include the group's award-winning "Toby's Song" and their signature tune "Coalinga" (the remote location of which inspired the title of their first album).
As an ensemble, The Riders remind listeners of Dire Straits, Dave Matthews Band, The Band, and Bruce Springsteen – in other words, rock and roll. As an acoustic duo, Cusimano and Shea deliver a folk sound reminiscent of Steve Earle, Townes Van Zandt, and the early Bob Dylan, with an emphasis on story-telling lyrics and unadorned guitar/violin/piano riffs, blending with each other and Cusimano's soulful vocals. Standouts on this album include the four "new" songs" (especially "Simple at its Best," which showcases the classically trained Shea's virtuosity, and "These Stones," which boasts a beautiful guitar line and Cusimano's expressive vocals). "Storylines," from the group's CSS album, is my favorite, channeling the pre-electric Dylan at his best. The spare arrangements focus the listener on the songs' beautiful but subtle melodies. "Too Far Away Tonight" and "In Pieces" highlight Cusimano's piano. Shea's violin shines throughout, particularly in "'Til the World Seems Right" and "Katie May I." The guitar picking in "Summer Rain," Wasted Heart," "Untitled," and "Sunday Letter" is understated but compelling. Cusimano's versatile (almost chameleon-like) vocals range widely throughout the album, from a raspy Ryan Bingham sound to a country drawl to a Van Morrison/Bruce Hornsby vibe, but excel in "Sunday Letter."
In Acoustic Duo, the Riders exhibit considerable musical skill: song writing, instrumental mastery, and evocative vocals. They are seasoned performers (playing together since 2003) and have appeared with major acts such as Robin Trower, America, and Chris Isaak in prominent venues like House of Blues, Humphrey's, and Anthology. This excellent album could be their breakthrough.