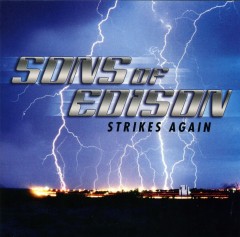 Sons of Edison consists of Michael Casinelli and Richard Livoni, who jointly wrote all 14 songs on this self-produced CD. The San Diego-based duo describe themselves as a "virtual band," which means that they play all of the instruments on 12 of the 14 tracks (through the magic of multi-track recording), with supporting musicians (including Eve Selis) featured on two. Strikes Again is the group's second album, following their self-titled 2002 debut. Casinelli, a past president of the San Diego Songwriter's Guild, plays keyboards, synthesizer, and percussion, and provides background vocals to Livoni's guitar, bass, drums, and lead vocals. Both musicians are seasoned journeymen who are veterans of the studio and the stage. Livoni, who owns and operates Blitz Recording Studio in San Diego (where the album was recorded), was part of the popular southern California rock band, The Blitz Brothers, which, during its existence from 1973 to 1986, frequently opened for touring headliners. So the Sons of Edison have cred in the genre they describe as "classic rock with a contemporary edge."
For the most part, Strikes Again evokes the soft side of classic rock/pop – reminding the listener of America, the Eagles, Guess Who/BTO, and similar groups from the '70s and '80s. The retro sound is reinforced by a song structure emphasizing hooks and choruses, and lyrics that bemoan lost romance. Yet the repertoire is varied enough to defy easy categorization.
"One Stone at a Time" is a very melodic acoustic rendition of one of the most popular songs from the group's first album. "My Darling Forever" is a father's ode to his darling daughter. Casinelli's synthesizer provides a decent facsimile of a horn section in "You Don't Know Me," "Send Her to Me," and "I Keep Falling," which captures the mood of Motown. Casinelli's piano work shines through on the ballad, "Can't You Hear My Heart."
"In Heaven Already," "Tryin' to Survive in America," "This Can't Go On," and "Stardom City" have more of a rock and roll edge, displaying Livoni's considerable prowess on the electric guitar. "Send Her to Me" has a blues flavor, with background vocals by Laticia Carrington.  The catchy "He's No Good For You" features a soulful Eve Selis on lead vocals and session pro Larry Dent on drums (as well as some excellent guitar work by Livoni) with an R&B beat.
My favorites songs from the album are "He's No Good For You" and the closing track, "Stardom City," which is a defiant anthem to musicians who never give up on the "long long road to Stardom City." The 60-year old Livoni, who has been playing in bands since the early 1970s, seems to be speaking from the heart when he sings: "Payin' my dues for so many years/Just for a chance to get across that line."