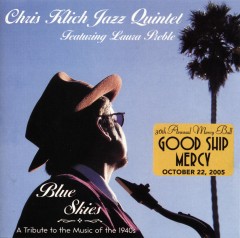 As Baby Boomers come to terms with the Great Recession, and scratch their heads about what passes for popular music these days, what better time to take a nostalgic listen back to the music that their parents grew up with. Before rock and guitars, it was big band jazz and horns, but then as now, good music had a good groove and hooks, and the best musicians were stars.
The standards of the 1930-1950 jazz era have a staying power that will outlive all but the very best of more recent music. The melodies are hard-wired into the musical memories of  even casual music fans; the best composers of the era include immortals like Duke Ellington, Irving Berlin, George and Ira Gershwin, and dozens of band leaders who were heroes in the radio age.
The music is still played, but 17-piece bands are tougher to put together than rock quartets. Chris Klich and his local Jazz Quintet manage to convey the feeling of a much bigger sound, while keeping some of the advantages of a smaller combo, sticking with classics on Blue Skies. Recorded in 2005 and featuring vocalist Laura Preble, the album is billed as a "Tribute to the Music of the 1940s," and if anything the 12 tracks are a sort of "greatest hits" of the big band era and platform for some great musicianship.
Klich is prominent throughout on all three saxes, clarinet, and flute. Alan Worthington handles the guitar with taste and restraint and keyboardist (for this disc) Neal Wauchope likewise sets the table for Klich and Preble to take the spotlight and soar. Preble's vocals are clear and expressive, with good range and a sultry edge when the song needs it.
The eight vocals and four instrumentals include Ellington's "Caravan," with some rasty sax work by Klich over the pounding drums getting aid from exotic guitar chords, setting up a nice bass solo by Brian Wright.