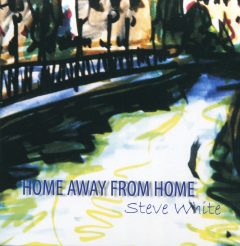 As many of you already know, Steve White passed away in April of this year. We will miss this marvelous performer and his music for a long time to come. Fortunately, in 2009, before the removal of his larynx would silence his voice, White recorded Home Away From Home. Produced and excellently recorded at Studio Hljódriti in Iceland, this final CD is one of White's best.
White's recordings fall into two camps, those in which he performed his self-contained orchestra of one – riffing blues licks on guitar, singing, and blowing harmonica, all the while his feet stamping out rhythms on a percussion board – and those in which other musicians accompanied him as he sang his songs. Home Away From Home is in this later category.
For me, I have always favored the bare bones recordings. White's live performances were always wonderful and astounding, and I always appreciated a CD that could recreate that live excitement. Although White is accompanied by a bass, organ, accordion, percussion, and guitar for this disk's ten tunes, his guitar riffs, harmonica, and percussion – everything that made a Steve White performance special – are at the fore of the mix. The contributions of the other musicians are quite good, but the arrangements still spotlight White's unique performance style.
One of White's appeal as a songwriter was his breadth of subject and expression, from the yin of childlike playfulness to yang of deep regret and sadness. The ten tunes of Home Away From Home contain it all. In one song White sings of the simple joy of drumming on a box at the bus stop, while another captures White fighting the despair of another lonely sleepless midnight.
I usually don't say much about the packaging for disks, the heyday of album art having passed with the demise of vinyl, but the sleeve for Home Away From Home deserves mention here. Exceptionally designed by Nicole Trunt, the disk comes with a booklet containing the lyrics to the tunes as well as samples from White's artwork. (Besides being a musician and songwriter, White was a painter.) Often taking an unusual angle on his subjects, colors dominate form in White's paintings. Rich hues of ocher, indigo, and azure drench the canvasses to produce strong and evocative images.
It was cancer that stole White's voice and ultimately took his life. Recorded not long before surgeons removed his larynx, White's beautiful strong baritone had turned to a rough, gravelly rasp by the time he made this recording. There was much buzz surrounding this disk during its release as to how White's rough voice enhanced his performance. On some level that is true, and I might guess that in Tom Waits' most covetous dreams he sounds like White does here. Having known White for over 20 years, however, for me it is painful to hear the ravages that the disease wrought, each coarse utterance reminding me of his demise.