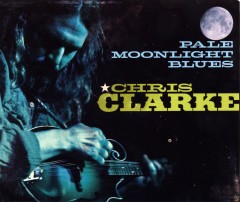 Part of Virginia native Chris Clarke's development as a traditional and bluegrass artist involved exposure to master musicians in the genre while attending college in West Virginia and spending the early '90s living in a log cabin in the Blue Ridge Mountains while further absorbing musical knowledge and mentoring that he brought to California.
For over a decade he has been part of the San Diego acoustic scene as a solo performer, with his trio Plow, and as part of the Monroe Avenue String Band. The connection made by his guitar and mandolin skills and easy vocal presence is enhanced by his ability to write songs; these fit in seamlessly with the established bluegrass and old-time country blues songs he sings that are traditional or by other artists.
His new album is Pale Moonlight Blues, and Clarke serves up 15 tasty samples of the mountain music and songs about country girls, trains, heartbreak, and the open road that have made up the Americana lexicon for over a century. "Caroline" is a foot-stomping rave up, with fiddle, banjo, and sharp harmonies all joining in the dance. Another Clarke tune, "The 4th of July" is a slower country ballad with haunting pedal steel answers to his lines about desertion and loss after a lover departs. "High on a Mountain" features (gasp) drums and electric guitar, but no worries — the arrangement clicks and the song has a deadly catchy chorus and has a mountain music soul; it's a standout track. More traditional, country-folk approaches mark "Midnight on the Stormy Deep" and "East Virginia Blues." The stripped-down latter track in particular sounds like the style of the old Bob Dylan and Joan Baez folk classics, though her cover of it is softer and more wistful.
A who's who of top local acoustic musicians are on hand to help out on the disc, including Jeff Berkley, Robin Henkel, Dennis Caplinger, Cathryn Beeks, John Mailander, Lindsay White, Doug Pettibone, and others including Plow members Joe Pomianek and Doug Walker. Berkley recorded it with just the right touch of restraint, to keep a taste of old-fashioned feel in the mix.