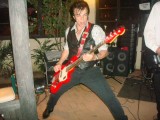 Chris Sullivan has reason to gloat these days. This month, two of his bands are up for San Diego Music Awards. His hard rockin' Farmers are up for Best Americana. His old band the Penetrators are receiving a Lifetime Achievement Award.
When MTV set out to dismantle rock n' roll in the early '80s, swapping out electric guitars for space age synthesizers and trading guttural energy for Paco's "Putting on the Ritz," a few bands in San Diego didn't get the memo. As rock 'n' roll faded back into that safe area between Flock of Seagulls and the Buggles, the San Diego scene continued to belch flames as if it didn't know any better. Much of this was fueled by the city's spectacular stable of bass players who refused to let the beat die. Rolle Love, first of the Rockin' Roulettes then the Beat Farmers, Mathew Pray and Eric Gotthelf of DFX2, Greg Willis formerly of Glory and Iron Butterfly, John Khula of Rick Elias's band, even a much younger Robin Henkel.
But, one Rickenbacker bass rumbled louder than the rest: the bass of Penetrator Chris Sullivan. In 1980, there was no band bigger than the Pens in San Diego. And, Sullivan was much more than just a bass player. He was a leader, a manager, and a principal songwriter.
Chris was born in Yonkers, New York where he grew up until moving to San Diego during his junior year of high school. Located just across the city line from the Bronx, Yonkers was a composite of ethnic groups with African-Americans, Italians, Puerto Ricans and others mixing freely. Both of his parents were avid music listeners, his mom veering toward vocal groups like the Mills Brothers, his dad toward country-western.
He remembers driving by the Apollo Theater in Harlem or listening to Booker T and the MGs on one day, driving out to country shows in Newark, New Jersey the next.
Soaking this all in, Sullivan began noodling on a family guitar when he was three. And, like many of his generation, his fires to form a band were kindled when he saw the Beatles first appear on Ed Sullivan. Unfortunately, the other five-year-olds in the neighborhood weren't as enthusiastic and Chris had to wait a few years before meeting serious musicians his age.
At age 13, he received his first electric and his playing took off from there. The baby of the family, he was exposed to his brothers' and sisters' friends and music. Soon, while still a teenager, he was jamming with neighborhood guys who were in their 20s and 30s.
Then, due to his father's health, the family suddenly uprooted while Chris was still in high school. Final destination: Spring Valley, California and Mount Miguel High. At first, Chris remembers not fitting in with the stoner culture of the mid-'70s. He saw himself less as a hippie and more as a 1950s or '60s throwback. While Southern California pounded out Led Zeppelin, Sullivan hung onto the soul, blues, and R&B that were so rife in Yonkers.
Only a year after moving to San Diego, Chris graduated high school and found himself out on his own. Pursuing one of his early dreams of becoming a radio DJ, he studied telecommunications at Grossmont College. He even landed a job doing voice-overs for Grossmont's audio-visual and ESL departments. While perfecting his velveteen disc jockey's voice, he also built a repertoire of other impersonations based on the old blues musicians, drunks, and street characters he grew up with in Yonkers.
At this time, he also started playing bass around town, fitting in easily with older musicians. First he joined Thunderbuck Ram, a band fronted by Sam Stanford formerly of the Gants. He also jammed behind Tomcat Courtney. And, he was befriended by the elder Andrew "Cactus" Soldi, Jim Soldi's father, while hanging out at the legendary Valley Music in El Cajon.
In 1977, he gravitated into that grouping of East County musicians that would steer much of Chris' musical future. He met Dan McLain, Joel Kmak, Jerry Raney, Buddy Blue, and the rest of the musicians who were pulling the East County music scene together. Soon, he moved into what would become a communal band house on one of the bluffs overlooking Bodie's, the now-famous bar of Beat Farmers lore near College Avenue and University. That same year Sullivan along with Kmak, Scott Harrington, and Gary Heffern formed sunny San Diego's answer to the punk scenes of New York and London. The attitude was reckless and the energy raw. At the same time, the songs were well-crafted, creating a combination that not only drew mobs of kids to the shows but turned the heads of the recording establishment and the L.A. music industry.
Kmak and Harrington soon left and were replaced by Dan McLain (the future Country Dick Montana), Chris Davies, and later Jim Call. Under the new lineup, the Pens continued raising havoc until 1984.
During their seven years together, they headlined local shows at the California Theater and Community Concourse, opened for the Ramones and Robert Gordon (with young guitarist Danny Gatton), split the bill at L.A.'s Whiskey-A-Go-Go with Berlin, Missing Persons, the B-52s, the Go Gos, and the Plimsouls, and shared a recording studio with Romeo Void and a very novice Irish band called U2.
It is fabled that when a riot broke out at a San Dieguito High School dance, where the Penetrators were playing, a young student named Eddie Vedder was so caught up in the tumult that he decided to become a rock star.
Additionally, they might be the only band to say they were visited backstage by both the Clash and the Rolling Stones. With the latter, it was Keith Richards and Ronnie Wood who stopped by a Pens show at the Roxy in L.A. The two Brits and five San Diegans ended up pulling an all-nighter. In the case of the Clash, Mick Jones and Joe Strummer, during one of their first tours of the U.S., dropped by a Penetrators show, a Mission Bay High School After Prom, at the Masonic Temple in Mission Valley. Strummer made quick friends with the band, especially Chris. And, Chris was able to introduce the Englishmen to such American favorites as the desert, rattlesnakes, jalapeño-popping, and shooting off large arsenals of illegal fireworks.
Yet, despite the hometown glory, not to mention that the Penetrators were voted ninth best band on KROQ's playlist of 1981 and performed several showcases for the likes of David Geffen, Capitol, Warner Brothers, and dozens of A&R guys, national fame never quite arrived. Somewhat tired and disillusioned with the business, the band broke up in 1984.
For a couple of years, Chris shuffled around to pick up gigs and jams sessions with his friends. Before there were the Beat Farmers, Dan McLain, now firmly Country Dick, had been tooling around with informal bands such as the Big MR All Bitchin' All Stars and the Pleasure Barons, both of which Sullivan fit into perfectly.
Then in 1986, he formed the Jacks along with friends Buddy Blue, Mighty Joe Longa, and former Iron Butterfly/ Glory drummer Jack Pinney. Chris, Buddy, and Joe were all New Yorkers. And, the sound crept away from the "cowpunk" that their East County gang was concocting. Affectionately dubbing their sound "East Coast Guinea Music," Chris and Buddy incorporated the Four Seasons, Rascals, and Vanilla Fudge into a framework of roots rock 'n' roll and Americana.
Managed by Denny Bruce, who also handled the Beat Farmers and the Fabulous Thunderbirds, the Jacks signed to Rounder Records, then the biggest independent label in the country. In their time, floods of "The Jacks are my pals" bumper stickers appeared on cars throughout San Diego County. They opened locally for Jerry Lee Lewis. They went out on several small tours, mostly in off-the-wall places like the ski towns of Colorado. They gigged the L.A. clubs while avoiding the ubiquitous hair-metal GLAM scene that was devouring most of rock's machismo. And, their hit "Mama's Boy" made it to an equally impressive yet anemic '88 on the national charts.
Feeling the déjà vu all over again, Chris left in 1989 as the Jacks evolved into the Buddy Blue Band.
Being without a band didn't mean that Chris Sullivan was exiled from music. Since his days in the Penetrators, he had cultivated studio friendships with the likes of famed Stax engineer and producer Ron Capone. He was also a friend-in-residence at Hit Single Studios in San Diego, which DJ Jim McInnes quietly supported. And, he had fallen in with a Nashville milieu that included Mel Tillis, Eddie Rabbitt, and Ronnie Milsap. Through it all, Chris was able to patch together a modest yet proud career as a studio musician, something he still does locally to this day. And, he was able to play on some of the big-name albums of the late '80s.
The quieter life of a studio musician also allowed him to spend the next 15 years being a dad. His kids, daughter Jennifer and sons Gehrig and Casey, all followed their father's lead and are musicians in their own right. The two boys also took their names, after Lou Gehrig and Casey Stengel, to heart and followed their dad out onto the baseball diamond.
If music is Chris' love, baseball is his paramour. As a high schooler in Yonkers, he was scouted by the Kansas City Royals. And, his continued references to baseball stats and stories show that the game has never left his blood. In this context, Chris coached his sons for 13 years through La Mesa National, Grossmont Pony, and the Patriot Senior Leagues.
Then in 2008, the music bug came calling again, this time in the form of a phone call from Farmers' frontman Jerry Raney. Side by side with Raney and founding Penetrator Joel Kmak, Chris' move into the band's bass chair was completely natural. A reunion of old friends, the Farmers took off with a new fury. Soon, they recorded their current CD Fulmination. And, they continue a two-night-a-week gig schedule despite the fact that they are now all holding down families and day jobs. Although the shows and "tours" are innocuous compared to the old days, the Farmers are still hitting the road to play Portland, Oregon; Alberta, Canada; and summer blowouts at Martinez Lake on the Colorado River, Pappy & Harriet's Bar up in Pioneer Town, and Vail Lake outside of Temecula. Here in town, they continue their residency at the Downtown Café in El Cajon while hawking merchandise and corresponding with a worldwide fan base online.
So, all in all, it's been a good run for Chris Sullivan, a run that shows no hint of ending anytime soon. His signature bass playing and song writing have definitely expanded the San Diego sound that he and his friends created. Both melodic and driving, his bass lines give San Diego roots rock both its raucousness and its soulful sophistication as he freely dips into the wells of Duck Dunn from the Stax Studio, Tommy Cogbill from Nashville, Jerry Scheff from Elvis' band, Carol Kaye from L.A.'s "wrecking crew," and Bob Babbitt from Motown. Chris also displays the same swagger and confidence as the others from the Cowpunk scene. Describing himself as a "frustrated front man," he's never too shy to jump into a crowd, dance atop pool tables, or yuck it up with the audience. So, if you – dear reader – wake up one day feeling a little old, remember that the good ol' days are still with us: Just go find yourself a barstool at the nearest Farmers show.