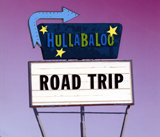 Music aimed at children always presents the problem that if it is something young kids will listen to, it will often drive their parents up the wall, with arrangements and instrumentation being too cutesy and bland. Hullabaloo, consisting of Steve Denyes and Brendan Kremer of Del Mar, have gotten around this problem on five previous family and children music discs, and do so again on Road Trip. Their approach is to play catchy, original country/Americana melodies, then add fun lyrics that catch the kids' attention. It's like listening to a good country-pop disc, with short songs and lyrics (provided) about being a kid.
Anyone who has been trapped in a car with young kids on any kind of trip knows that the young ones' attention span is only as long as the arm-length that they are separated from their brother or sister. Here, Hullabaloo has put together a "concept" children's CD on Road Trip, 13 travel tunes that are simple and written the way kids think and talk, but the key that makes this work is the delivery. Most of the songs are written by guitarist/singer Denyes, and the lead vocals have a Johnny Cash vibe that gives them a shot of country pedigree, as well as capturing young ears with the kind of vocal authority that makes for perfect sing-alongs. The background music isn't watered down either; local session musician Dennis Caplinger plays six stringed instruments throughout, and three backup singers fill out the sound.
The title track launches the disc and the trip, a kid that tells us of big plans. "Climb a concrete brontosaurus and see the biggest ball of string." "Flying By" is a rockabilly backdrop as the story shifts to what is out the window, since the DVD player (oh, horrors) broke. This tune is a winner, and so is "10-4 Good Buddy," another great piece of tasty Americana for young listeners. At times sounding like Cash's "One Piece at a Time," this one is about all of the wonders inside those big rigs rumbling out there. Adults don't care about this stuff, but kids do.
Remember when bugs smacking the windshield seemed cool? The Hullabaloo guys have some fun on this one; dad is toasting the bugs, "I'm safe and warm in this motel tonight/You're up in bug heaven flying towards the light." Of course, what road trip disc would be complete without a tune about "Are We There Yet?" and this song has a tropical-light feel as it tells about the GPS lady assuring everyone that all is well. For "I'm Hungry," the kid finds a French fry in his seat, first verse, and the delicacies keep coming after that, for five more verses.
Hullabaloo knows their audience, and Road Trip is an imaginative approach to connect with kids at their level while doing so with real music they can appreciate on its own merits. It won't drive mom and dad up the wall and will have them soon singing along.