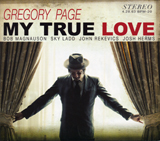 Gregory Page has such an extensive discography, the question often arises, where does one start?
The answer: start here. Anyone who has followed Page's career, knows what an incredible songwriter he is, with a warm voice that's the perfect complement to songs steeped in classic songwriting traditions.
And it's all been building to this.
My True Love is Page's masterpiece, a confident, all-original album that harkens back to the jazz-inspired sounds of the 1930s. While some might consider that retro in some way, that's truly not the case. This is timeless music, with a romantic side that's touching. It's an amazing set of Tin Pan Alley-type songs.
Of late Page has come to acclaim in such far flung places as the Netherlands and Australia, a rising star after years of laying ground work. One listen to this album and it's easy to see why. Its classy sounds and themes are universal, Page's knack for melody instantly seals the deal.
The album opens strongly with "That's You," highlighted by pianist Sky Ladd's tinkling ivories and John Rekevic's wonderful clarinet. It's masterfully sung, played, and arranged. Indeed, songs dealing with affairs of the heart don't get much better than this.
Other titles give the game away – "The Perfect Love," My Heart Came Alive," "Hook, Line and Sinker." There's love on Mr. Page's mind and in his songs. It would be hard for even the cynical to not find this album charming.
A true all-star effort, produced by Page and Jim Monroe, other musicians on the album include bassist Bob Magnusson, drummer Josh Hermsmeier, cellist Erin Breene, trumpeter Tony Guerrero, and harmony vocalist Cindy Wasserman. There is one non-Page number, a Ladd solo instrumental piano tune called "Cup of Midnight," which ends the album on just the right, slightly melancholy down note.
Long-time fans know they need this album, but If you're new to the sounds of Gregory Page, this is the perfect introduction.
Page conquered San Diego's heart long ago. With this one he takes the world.