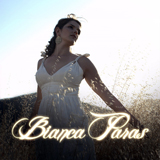 Like probably every other city these days, San Diego is fortunate to have a healthy singer-songwriter circuit. Anyone who has spent any time checking out shows, however, would probably agree that although there are numerous entertaining artists, and quite a few with a good song or two, performers with a deep catalog of great stuff to listen to are much harder to come by. There's a reason why musicians like Poltz, Page, and DeCerbo are so revered beyond the local music community. Writing one great song is tough enough, penning dozens is practically against the odds and should rightfully be celebrated. Which brings us to Bianca Paras.
It's probable that Bianca Paras is a new name to most San Diego music listeners, but on the strength of her debut release, Begin Again, that probably won't be the case for long. The album contains seven songs, reference points would likely be Tapestry-era Carole King, 10,000 Maniacs fronted by Natalie Merchant, and Sarah McLachlan with a bluesier touch, but anyway you look at it, this is confident tunesmithing at its best.
The focus is squarely on Paras, her vocals and keyboards, however, her band, featuring Diana Hambrick (vocals), David Garcia (guitar), Sean Myott (bass), and Derek Holzhausen is perfectly matched to the material.
Begin Again starts out strong with the up-tempo "Keep on Movin'," which spotlights the superb production from Josquin des Pres and Track Star Studios. The song opens like a classic rocker before shifting to mid-tempo balladry, taking in a Satie-like piano break, plus a chanted section and then back out to classic rock – all in a four-minute pop song.
Indeed, one of my favorite things about the album is that the tunes all get their point across in a general three to four minutes. Too many artists ruin good songs by having them drone on and on; here Paras sticks to classic "single" length and it works in the album's favor, keeping the pace quick and refreshing – you want to hear what's coming next.
Highpoints are many, but one of the best songs is the haunting ballad "Give Your Heart Away." A memorable tune in itself, Hambrick's counter melody harmonies give it an edge and added hook that will instantly get it stuck in your head. Also striking is the track that uses a syncopated rhythm, which lopes along nicely in a McCartney-ish vein.
With the album only featuring seven songs, and at such an early point in her career it's hard to say whether Paras will ultimately end up being mentioned in the same breath as the gifted songwriters and performers mentioned above. But based on this excellent music found on Begin Again, she's off to a pretty good start.