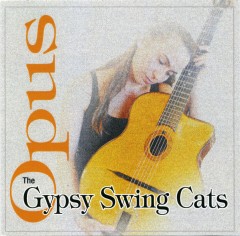 Few guitarists fail to cite Django Reinhardt as an influence since his passing 60 years ago at age 43, and the Gypsy Swing Cats are no exception. The local trio features standup bassist Rick Steffens, guitarists Steve Nichols, and Guy Gonzales; the latter two are Django disciples down to their custom Selmer-style D-hole "big mouth" and oval sound hole guitars, loud axes favored by the gypsy icon in his day.
Opus gives the core trio 11 tracks to stretch out, helped on some tracks by violinist Chris Vitas, percussionist Tommy Aros, and some other noted local studio players. It has a "live in the studio" feel and along with several songs that are excursions for exotic, flamenco-influenced gypsy jazz guitar soloing, several have a Latin percussion and vibe, while others are light and smooth jazz standards given a gypsy feel.
"Bossa Dorado" fairly bristles with energy, as Aros lays down a conga rhythm for Gonzalez, who takes the first solo, then Nichols answers. The two have similar styles, with Gonzalez occasionally willing (Ã  la Reinhardt) to speed the notes together into a bit of a jumble. Nichols shines on the standard "Coquette," which has a real swing feel to it and the kind of stinging riffs from both guitarists that are the Django trademark. "For Sephora" pulls in percussion and a strong Gonzalez strum pattern that conveys both Latin and gypsy mystique, then finds each player weaving a lyrical spell of staccato explorations.
Vitas makes his first appearance on the gypsy swing classic "Ghandi's Revenge," at first playing in background as the two guitarists engage in a sort of Django contest, then taking his turn to make the case for Reinhardt's famed partner Stéphanne Grappelli. On "Minor Swing," it's more gypsy swing with Steffens moving things along for a fine solo by Jim Soldi, as well as the others.
Finishing the disc with what are likely the three best tracks, the Cats dip into the American songbook for "September Song," and it is transformed into a jazz guitar tour de force by both principals as well as a memorable ear-grabber. Then comes Reinhardt's "Swing 42," and Vitas helps gives this one just the right arrangement and context — it captures the sound and flair of Reinhardt and Grappelli's combo in a time capsule, and both guitarists use phrasing right out of the Django dictionary. They may have saved the best for last: if there was ever an exotic song calling for a gypsy-flavored rendition and some hot guitar flash, it has to be "Caravan." The 1936 big band hit for Duke Ellington starts slow, combining percussion with guitars playing in alternating modes, to convey darkness and mystery. Then, after a bit, the seven-minute highlight speeds into swing mode and becomes a breathtaking magic carpet for Nichols and then Gonzalez to fly, finally going over the top when Dennis Caplinger comes in with an absolutely amazing violin solo.
Enough said. Opus is a must-have for guitar and acoustic jazz lovers.